Here I will give you all the information about Email Marketing but before starting this blog, I want to answer the question which is most common in Email Marketing.
The best way to learn email marketing is by doing practical. So, why do you need this theoretical knowledge about email marketing?
Yes, I totally agree with you. Email marketing is practical stuff, only by doing practicals you can learn Email marketing.
But without knowing basic stuff like
What is email marketing?
Why is email marketing important?
What is the scope of email marketing?
Which software is required for email marketing?
Which strategy works best in email marketing?
If you want great results with email marketing then you have to understand all that fundamentals.
Now you have a question: where can you learn all these things?
I will give you all the information about email marketing, after reading this blog you will be able to do email marketing by yourself without any help.
1. What is Email Marketing?
Email marketing is one type of communication channel, with the help of this channel you can communicate with people who give permission to you by giving them their email addresses.
With help of email marketing, you can promote your services, product, and many other things which you want.
By using Email marketing you can build relationships with your customer.
2. Why is email marketing important to businesses?
Email marketing is part of digital marketing and if you don't know about digital marketing and heard it the first time then I will tell you when you do marketing with help the internet is called digital marketing.
According to Statista,
From the above picture, you can understand how much Email users will be increasing in the next 3 years.
And if people change their homes, the living addresses will change,
People's professions will change if they find other good professions but email lasts once it is created.
Here I know you have a question: how can we generate revenue through an email list?
We cover all the ways that you can use to generate revenue through email marketing in this blog.
So stay tuned with me.
Email marketing has the highest return on investment (ROI) in the digital marketing industry.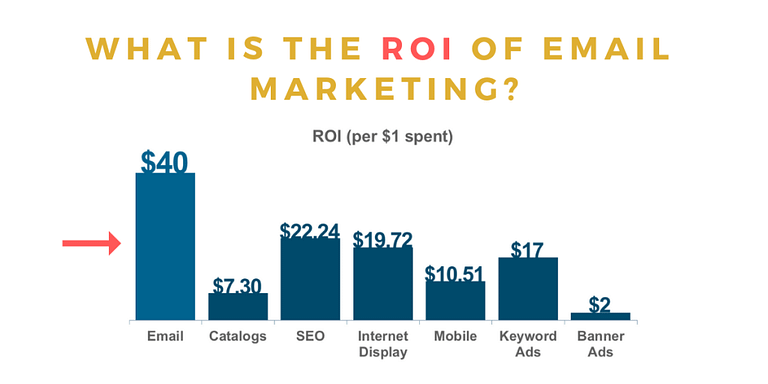 If you spend 1$ on email marketing you get 40$.
And also you can compare other digital marketing channels and how they give ROI after spending 1$ on this.
So I hope you have got an idea about how important email marketing is.
3. Types Of Email Marketing:
There are mainly two types of email used in email marketing


Transactional Emails or Autoresponders:
Direct Emails Broadcasts or Newsletters:
1. Transactional Emails Or Autoresponders:
Transactional emails are usually triggered based on a customer's action with a company.
Transactional messages include dropped basket messages, password reset emails, purchase or order confirmation emails, order status emails, reorder emails, and email receipts.
The primary purpose of a transactional email is to acknowledge an action of a visitor on the website that has triggered it.
Because of this, transactional emails are an opportunity to engage customers & build email relationships & trust with customers or subscribers.
2.

Direct Emails Broadcasts Or Newsletters :
This is an email where a business is trying to communicate promotional content via its email.
Ex.

An update regarding some product launch or service launch or courses update etc…
Note: if you do spam in email marketing you can not earn money and also you can destroy your brand image in the market.
If you buy an email list for someone else and send them mail daily it's called spamming. If you want to achieve success in email marketing then I request you don't spam.
At the start of this Blog, I say email marketing is done when people give their email addresses.
But How will people give us their email addresses?
Simple when you give value to the person it gives their email address to you.
Ex: You can give your email when someone gives you some ebooks, offers, or checklists that add value to someone's life.
There are many methods to get people's email addresses with their permission. I will discuss all methods in this Blog.
4. Process Of Email Marketing:
In the below picture, I give you 6 steps process for doing email marketing.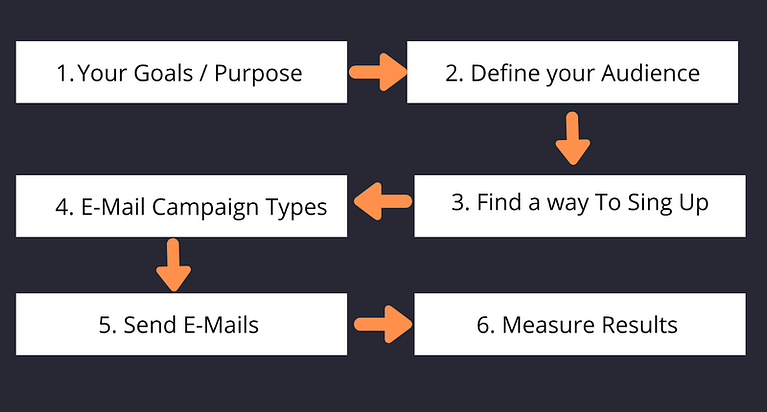 1.

Your Goals/Purpose For Doing Email Marketing:
Without knowing what are your goals/ purpose for doing email marketing, you cannot get good results from your email marketing strategy.
You have to understand your goal, form the email marketing what you want like
2. Generate a revenue
3. Increase your website traffic
4. Promote other company products or services
5. Want to promote other products or services of your business
So first find your goal for doing email marketing and then according to your goal follow the upcoming steps.
2. Define Your Audience:
Do you have to
understand what your target audience is
?
Without knowing the target audience you can't do effective email marketing and if you do email marketing without finding the target audience you waste your time and money both together.
So first make 2-3 user profiles of your customers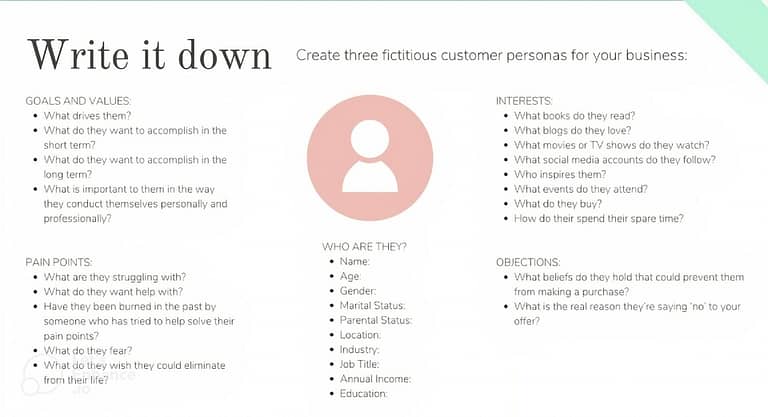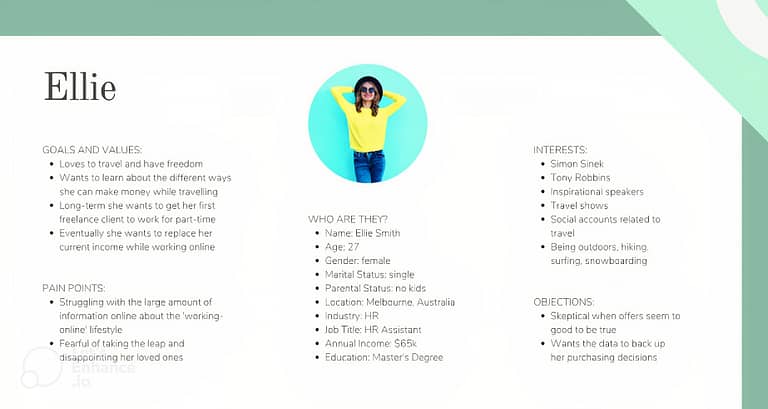 In the target audience persona, you consider all things that are shown in the image.
How can you find all the above data?
Simply use the analytic platform which you use to give your audience value.
Instagram insight
Facebook analytics
Google analytics
Same almost every platform has its own analytics, you can easily find data from them. Or If you just start and you don't have any data then you can start with the assumption of what your ideal customer look likes?
Target audience or buyer persona help you to create a lead magnet that is completely suitable for your audience.
3. Find out how to get sign-ups from your audience:
Why does anyone give their email address to you?
Because of value, when you give more value than people expect, people will easily give their email to you.
In email marketing terms value is called a
lead magnet
, which generates email addresses for you.
What types of lead magnet you can use
What types of lead magnet you can use
E-book
Videos content
Webinars
Checklists
Infographics
Podcast
Free consultation
Discount coupons
Quizzes or self-assessment
Case studies
Free Courses

You can use all of us as a lead magnet according to your business.
What is a good lead magnet?
Solves a real problems
Super specific
Quick to digest
High value
Instantly accessible
Don't be available on your other platforms like youtube, Instagram, LinkedIn, etc….
If you give content which is available on YouTube or any other platform why do people give you their email address because they can easily consume that content without giving you their email address?
A different method to get emails:
● A form on your website
Basically, you can use two types of signs for your website
1. Sidebar or footer form:
On many websites you have seen there is a sidebar or footer which asks for your email and gives you some value.
You see those types of from on many websites like Tim Ferris, dan lok, pat Flynn, garyvee, and many big creator websites.
We give you one example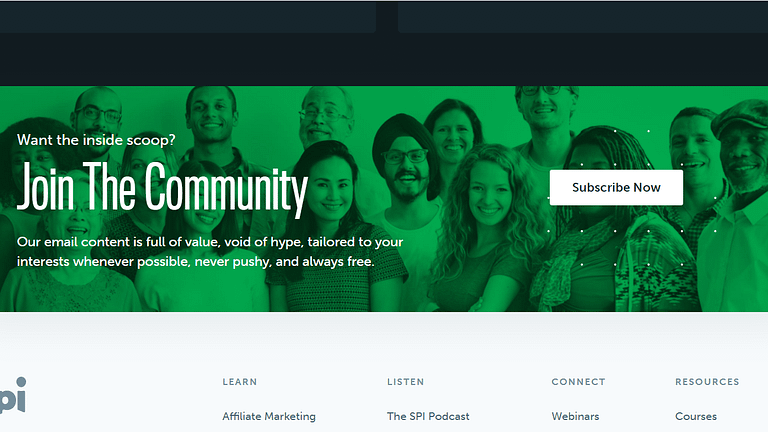 This footer picture of pat Flynn's website who is a digital creator, where he told to join their community, and when you click the subscribe now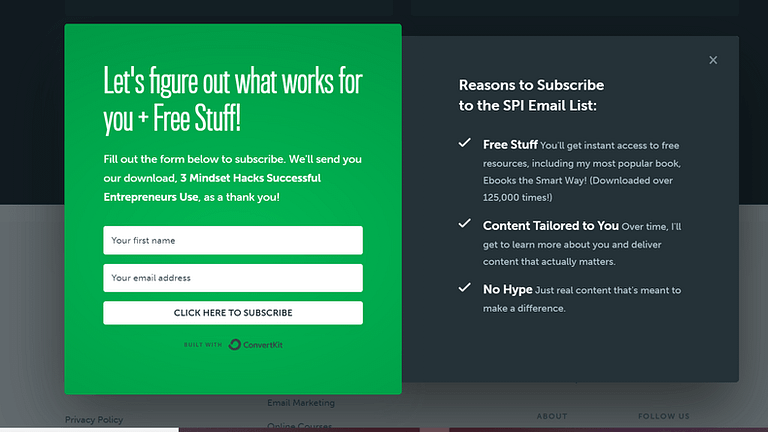 There is another page that will open and which asks for your email address.
Startups and businesses use the same way to collect email addresses for email marketing.
2. Pop-up form
Here I will give different types of popup forms examples so you can understand how popup forms work in email marketing.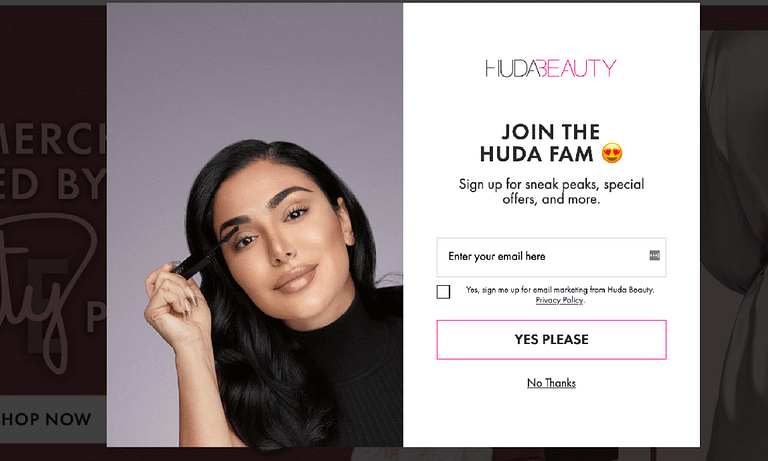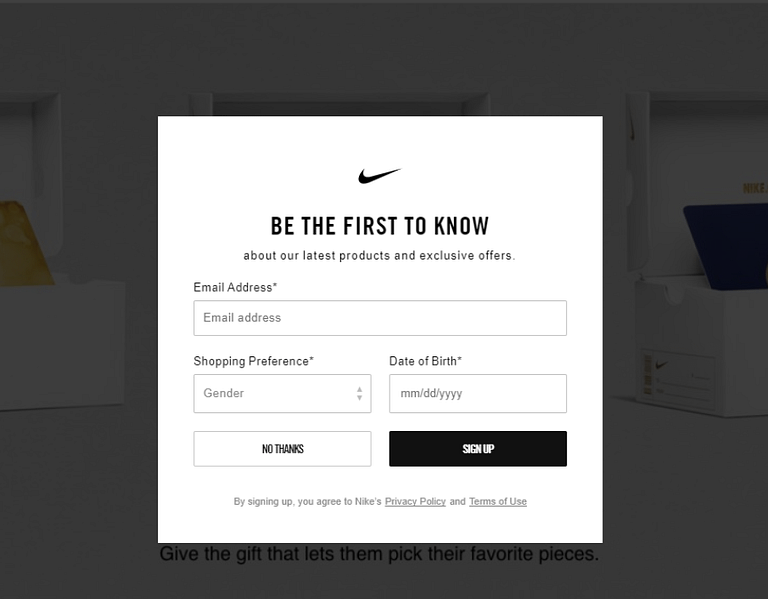 You can use a pop-up when users come to your website and after 5 or 10 seconds, will pop up on users' display. You also do this for getting emails from your websites.
● By using landing pages
There is a  difference  between landing pages and website
Landing pages are specially made for ads campaigns
When you running Facebook ads, Insta ads, LinkedIn ads you can not make a website for that you can make a landing page for that so you can get emails
Website have their own different content for peoples
But landing pages are made for particular services or product promotions so they have only content related to that product or service.
I give you an example of different company landing pages.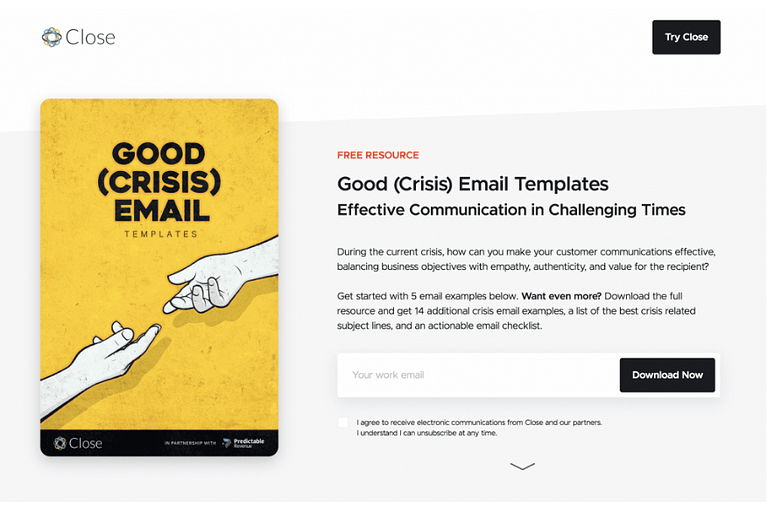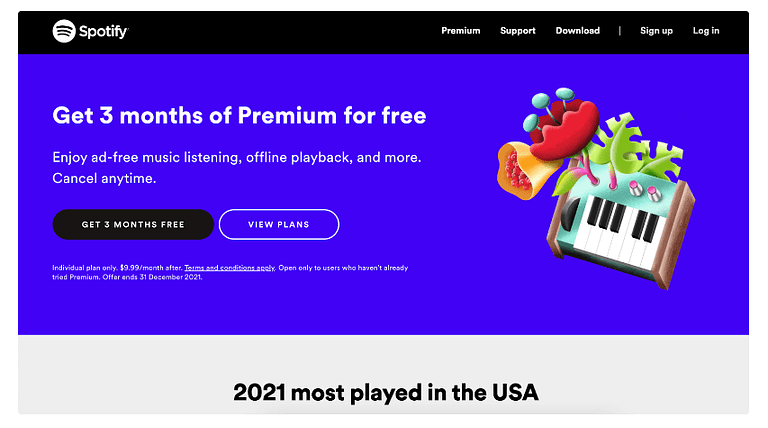 We hope you understand how will you get email signup for your businesses
Note: you can make a website on WordPress, Wix, Webflow, or other platforms.
And for landing pages, you can use
Hubspot
Leadpages
Clickfunnels
Unbounce
We do not recommend anyone, all are good. You can go on google and search for it and use which is most suitable for you.
There are different types of email campaigns used for different businesses.
The Welcome Email Series
The Promotional Campaign
The Seasonal Campaign
The Post-Purchase campaign
The Connect-Via-Social Campaign
The Newsletter
The discount-based campaign
The announce-based campaign
There are many more campaigns available but most businesses use this type of campaign and you can also find more on YouTube or Google.
Because making an email campaign is practical knowledge you have to take this type of knowledge on YouTube.
After the above 4 steps in this step, you have to send emails to your audience.
For sending emails to your target audience you have to use email marketing software because
email marketing software makes your work easy
and you do have not to send emails manually to your audience.
There are many software available on market like
Mailchimp
ActiveCampaign
Hubspot
get response
AWeber
Mailerlite
Constant Contact
We suggest in the beginning you will use the free trial of the above software.
And in our opinion, if you will find any of the above software useful then go for the paid version of that software.
Note: you have to integrate your email marketing software with the Website platform ( WordPress, Wix, Webflow, or other ) or landing pages software which one do you use.
When you integrate both software which you use you can easily measure the result of your sending mails in software analytics which one you use.
In any kind of email marketing software, you use there are some matrices that show how your campaign is working
Let's understand the important matrices of email marketing
1. Open rate
It shows how many people open your emails
The open rate tracks how many subscribers opened the email you sent.
If you send emails to 3000 people and 1000 people open your email then your open rate is 33.33%.
2. Clickthrough rate
CTR measures how many people clicked on the links in your email.
Click-through rates are typically much lower than open rates. The average click-through rate for most campaigns is slightly over 4%.
Clickthrough rate (CTR) is likely the first answer you'll get when you ask an email marketer what metrics they track.
It's what I like to call the "day-to-day" email marketing metric because it lets you easily calculate performance for every individual email you send.
From there, you can track how your CTR changes over time.
3. Bounce rate
There are mainly two types of bounces

Hard bounces
Soft bounces
1. Hard bounces
Hard bounces are the result of an invalid, closed, or non-existent email address, and these emails will never be successfully delivered.
You should immediately remove hard bounce addresses from your email list because

internet service providers (ISPs)

use bounce rates as one of the key factors to determine an email sender's reputation
2. Soft bounces
Hard bounces are the result of an invalid, closed, or non-existent email address, and these emails will never be successfully delivered.
You should immediately remove hard bounce addresses from your email list because

internet service providers (ISPs)

use bounce rates as one of the key factors to determine an email sender's reputation
4. Conversion rate
The percentage of people who clicked on a link within an email and completed the desired action, such as filling out a lead generation form or purchasing a product.
Conversion rates give you unique insight into your return on investment.
you know how much you have spent and how many subscribers are converting with help of the conversion rate.
it's easier to determine whether or not the money you are putting into your campaign is paying off.
5. Unsubscribe rate
The percentage of email people unsubscribe from your send list after opening a given email.
Measuring unsubscribes is very simple. Any email provider will tell you how many people unsubscribed upon receiving an email from you.
A high number of unsubscribes can be discouraging.
However, email marketers prioritize this email marketing metric and often view unsubscribes as a good thing because they indicate that you are fine-tuning your subscriber list.
Additionally, clearly giving subscribers the opportunity to unsubscribe lets them know they have a choice as to what kind of content they will receive from your brand and when which helps to build trust.
6. Email sharing
mail sharing measures the percentage of people who either shared your post via social media or forwarded it to a friend.
Forwarding rate or sharing is a helpful metric to track because it gives you an idea of how many brand advocates you have.
It tells you what percentage of subscribers are recommending your emails to others
Developing brand advocates through email marketing is a great strategy, especially considering 81% of consumers' purchasing decisions are influenced by friends' social media posts.
Here above are all the matrices, with help of them you can find whether your campaign is doing well or not.
Here I cover all about email marketing and I hope that you like it. lastly, I share some do and some don't do lists while doing email marketing.
You have to send an email at a specific time so that your audience waits for your email and you get more conversions.
For finding the specific times you have to do different tests at different times and find when the people open your emails most.
Make your email layout mobile-friendly (the most important thing for email marketing because most the people operate with their mobile phones)
You can also put a video link in emails
Use GIFs if you send emails related to foods, wishings, and holidays.
Subscribe to a good email writer and watch their email what they send to you and learn from them.
Give time to create an eye-catching headline because people read your headline first and then open your email. For a good headline use the below-mentioned tips.
1.  Use blinder ( people do not assume what is in email)
hey, what's up to something amazing for you?
time to check this out
let's rolling
You never thought this is happening
2. What is there for me type title
3. Use personalize mail title (Ex: Dear Mr or Mrs name)
4. Use power words in the title (Free, save, you, name, easy, new, fast)
5. Also you can use starting word disruptive
Don't do spamming
Don't send 10-15 emails to one user ideally sending one mail daily is a good choice
Don't go for good UI/UX design because it is an email, not a website.
Also, remember you have to provide more value to the audience because without giving value to your audience you can not do email marketing.
I hope you get the all fundamental knowledge about email marketing through this blog and you start implementing all this in your email marketing.
Tell me in the comments how this guide helps you with your email marketing? By Knowing processes, metrics, software, or other methods.